The cranes rising in the air above Parramatta are set to give way to towers up to 67 storeys over the next decade as the skyline of Sydney's fast-growing second CBD continues to take shape.
The City of Parramatta Council, which is overseeing an unprecedented wave of public and private investment, is giving a glimpse of how $5.5 billion worth of building projects will change the city.
The council has released images and video footage showing 30 major building projects – each at varying stages of development – that are set to transform the city's core in the next 10 years.
Western Sydney Business Chamber executive director David Borger said Parramatta had become "the only second CBD in Australia" and development across the city was "accelerating at a very fast pace".
But he said the residents' quality of life needed to be preserved amid the area's housing and infrastructure boom. "We've got to make sure the city becomes a more liveable city," he said.
"When cities get design and landscaping right, everyone benefits."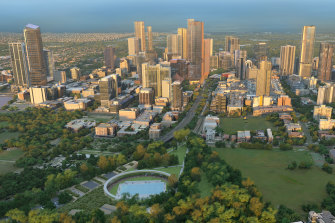 Among the developments that have been completed are the 30,000-seat Bankwest Stadium and Arthur Phillip High School's $225 million high-rise campus, which will open to students in 2020.
Projects that are yet to be finished include a new $77 million public swimming pool, the Parramatta Square development and the Civic Link walkway connecting the train station to Parramatta River.
The $3.2 billion Parramatta Square project – a decades-long attempt to regenerate the square adjacent to Parramatta Station – will feature four towers developed by the Walker Corporation.
And developer Meriton, founded by billionaire Harry Triguboff, last month won approval to build Parramatta's tallest residential high-rise at 67 storeys with an adjoining 58-storey hotel tower.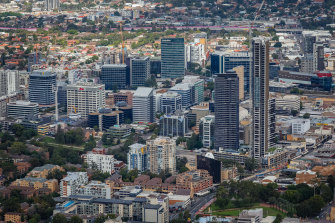 The city's development rush is set to complement the planned $5.3 billion Western Sydney Airport and the Berejiklian government's much-vaunted metro rail line from central Sydney to Parramatta.
The council said each of the 30 projects exhibited design excellence under planning rules that require major developments to be subject to a design competition before they can be approved.
Parramatta mayor Bob Dwyer said good design and planning fostered "first-rate commercial and residential buildings, and infrastructure that meets the needs of current and future populations".
Former government architect Peter Poulet, who is the central city district commissioner for the Greater Sydney Commission, said good design was also essential to creating vibrant urban spaces.
"It's not just about the buildings. It's about the squares, the green spaces, and the streets, that makes a place great to live, work and play – and Parramatta is delivering on that," Mr Poulet said.
Greater Parramatta is the core of the central river city under the Greater Sydney Commission's plan for a metropolis made up of three separate but linked cities.