Dual income properties have become a popular investment strategy in recent years. Increased property prices have forced many out of the market, causing a surge in demand for alternative living arrangements.
Dual income properties have become a popular investment strategy in recent years. Increased property prices have forced many out of the market, causing a surge in demand for alternative living arrangements.
Dual income properties provide an innovative solution for investors to meet such market demands.
A property is classified as dual-income when the owner generates two incomes by way of separate rental agreements.
Dual income property types
Common dual income scenarios include granny flats, duplex units and dual occupancy properties.
A granny flat is a secondary dwelling generally situated in the backyard of an existing property. Often studio sized, they are relatively affordable while still offering strong rental returns.
When a secondary dwelling such as a granny flat is income-producing the owner is entitled to substantial depreciation deductions, even if they are currently occupying the primary residence on the property.
Common areas between the granny flat and the owner-occupied property such as driveways, pools and barbecues may also entitle the owner to additional depreciation deductions. Read our article to find out more about the advantages of building a granny flat.
Unlike a granny flat, a duplex refers to two residential properties that share a common wall. If duplexes are built on the same land title, they can be owned and sold as a pair. If they exist on separate land titles, investors can own and sell each duplex individually.
Dual-occupancy properties are like duplexes in that they consist of two dwellings on the one plot of land, but they don't necessarily have to be adjoining. Dual-occupancy properties, also known as shared living, have single title ownership. This means there's only one set of rates and no body corporate fees to consider.
Whether it be a granny flat, duplex or dual occupancy property, a dual income investment can offer flexibility and opportunity to suit a range of investor needs. In addition, dual income property owners are entitled to substantial depreciation deductions.
Advantages and disadvantages of dual-income properties
One of the main benefits of a dual-income investment is the flexibility it offers. An investor may choose to lease both properties, live in one while renting out the other or even sell one or both properties. All options are highly profitable and can help maximise an investor's cash flow.
Another advantage is that investors don't have to subdivide the land to maximise its value. Unlike subdivided land, duplexes and granny flats don't have additional holding fees, insurance costs and council rates.
While there are many benefits, dual income properties also have downfalls. The first is navigating council legislation and getting approval. Not all councils allow the building of dual income properties so it's important to understand these rules and regulations.
If you do get council approval, the initial cost of building a dual income property may also fare higher because you're essentially building two homes. For example, the cost of building a set of duplexes will be higher than constructing a single unit. However, given that dual income investments have the ability to generate two revenue streams, they typically make up for this outlay.
Dual income property case study – granny flat
An investor decides to build a granny flat on their block of land.
The granny flat features a split system air conditioner, rangehood, hot water system, curtains, ceiling fans and a solar-powered generating system, all of which have considerable depreciable value.
The table below details the first full year and the cumulative five-year depreciation deductions available to the property owner. It's important to note that these items are just some of the assets that can be depreciated. The owner would also be eligible to claim capital works deductions for the building structure.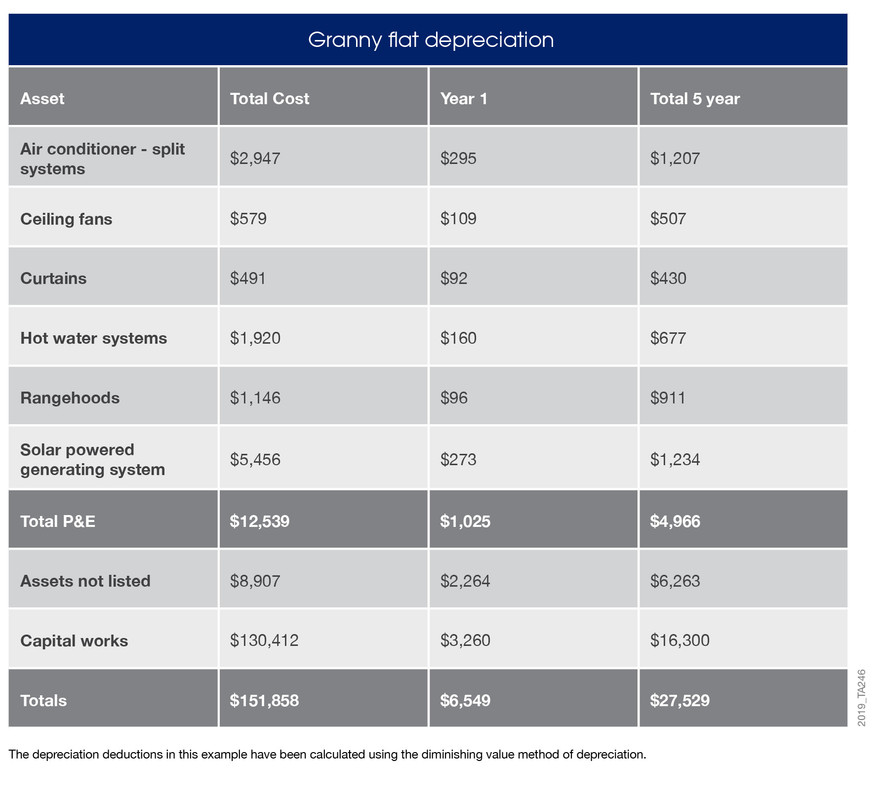 As the table shows, the investor can claim $6,549 in depreciation deductions in the first financial year and a further $27,529 in the first five years on these plant and equipment assets.
If the granny flat is situated on a block featuring another investment property, the investor can expect to claim thousands of dollars more.
For example, in the 2017/2018 financial year BMT Tax Depreciation found residential property investors an average of almost $9,000 in the first financial year.
If we apply this to our case study, the investor's total claim could be more than $15,000.
These deductions will help boost the investor's cash flow and reduce their taxable income.
Seek an expert and save more
If you own or are considering building a dual income property, you can increase your tax return by organising a tax depreciation schedule with a specialist Quantity Surveyor.
Tax Ruling 97/25 states quantity surveyors such as BMT are one of the only professions qualified to estimate construction costs for depreciation.
A BMT Tax Depreciation Schedule helps to ensure you maximise the cash return from your investment property each financial year.
The schedule fee is a one-off payment and will include deductions for the forty-year lifetime of a property. The fee is 100 per cent tax-deductible.
Source: www.bmtqs.com.au/bmt-insider/dual-income-property/
Related Posts