The Hunter region has an estimated 322,000 jobs and this is projected to increase to 384,000 by 2036. The Hunter has a GDP of $43 billion, substantially outpacing NT, TAS and ACT. This is in addition to urban development projects totalling nearly $4 billion dollars, vacancy rates in key areas as low as 0.8% and an average growth rate across the region sitting around 12%.
The Hunter is the largest regional economy in Australia, ranking above Tasmania, the Northern Territory and the Australian Capital Territory in terms of economic output. It drives around 28 per cent of regional NSW's total economic output and is the largest regional contributor to the State's gross domestic product.
The region has an estimated 322,000 jobs and this is projected to increase to 384,000 by 2036. There is potential to achieve higher jobs growth by planning for more diversified use of employment land.
Greater Newcastle 2036 map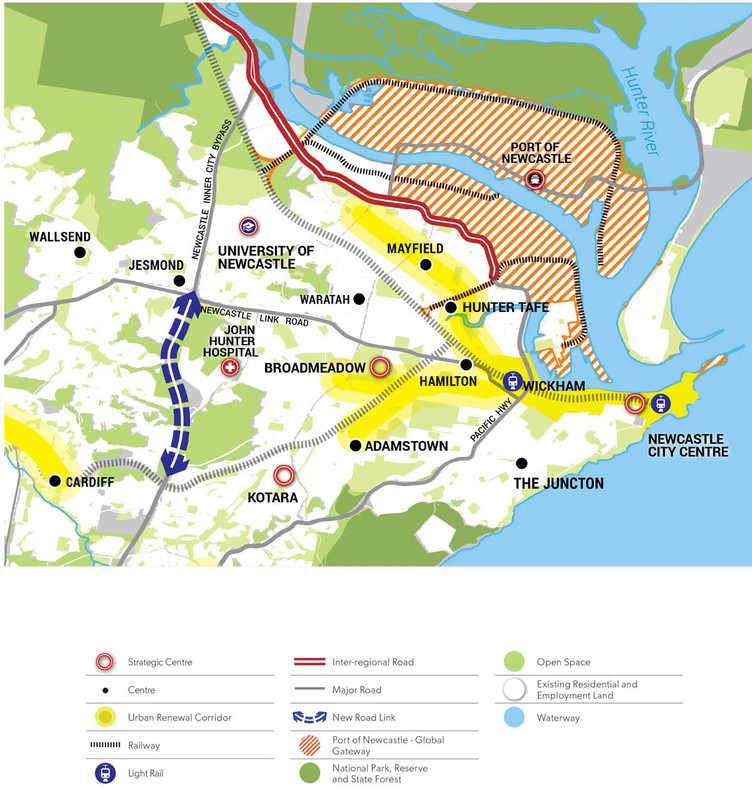 The economy is increasingly diversified, with strong growth occurring in health care, social assistance, accommodation, food and professional services. This growth demonstrates the region is well placed to benefit from the macro trends affecting the Australian economy, such as the ageing population and greater exposure to the global economy.
The Hunter is strategically situated to leverage proximity to Asia and the region's growing agricultural, health, education and tourism sectors to supply developing Asian economies with resources and products.
The Plan aims to strengthen the region's economic resilience, protect its well-established economic and employment bases and build on its existing strengths to foster greater market and industry diversification.
The development of strategic employment centres is a priority across Greater Newcastle, including revitalising Newcastle City Centre and enhancing specialist centres like the University of Newcastle, John Hunter Hospital, the Port of Newcastle and Newcastle Airport. Growth in these centres will expand the regional economy and support more jobs close to where people live.
The Upper Hunter will undergo a transition in the context of a changing industry environment, particularly in mining and power generation, and emerging trends in agribusiness.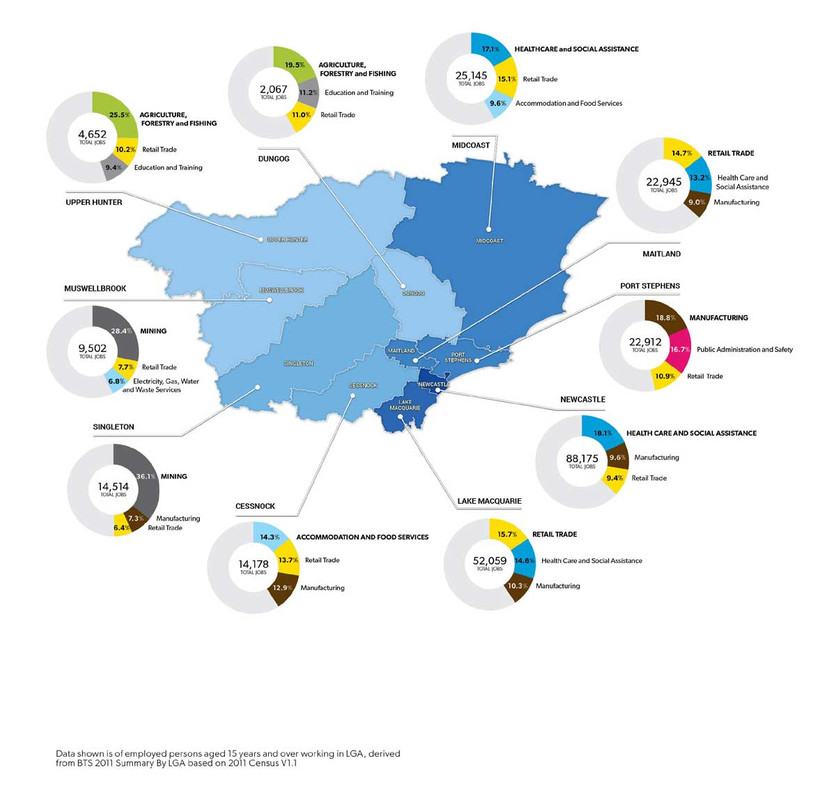 Emerging industries
Regional Development Australia's Smart Specialisation Strategy for the Hunter Region (2016) identified the following growth areas:
advanced manufacturing;
creative industries;
defence;
food and agribusiness;
mining equipment, technology and services;
medical technologies and pharmaceuticals; and
oil, gas and energy resources.
There are other industries, such as tourism, health and education, which are expected to expand as part of an overall national trend.
Source : planning.nsw.au