Low-rise medium-density housing, widely considered "the missing part" of NSW housing stock, could be the way forward as new concessions for developers kick in.
NSW is currently experiencing consistent growth in townhouse development and a surge in medium-density viewership over the last 12 months, according to Colliers International.
Medium-density housing can range between 25 to 80 dwellings per hectare, although it more commonly sits between 30 and 40 dwellings per hectare.
Earlier this year the Berejiklian government introduced new codes aiming to increase the amount of medium-density housing in Sydney from its current 10 per cent share of new approvals.
The new housing code allows those wanting to build medium-density homes to do so using a complying development process that is quicker and cheaper than other approval mechanisms.
"The fast-growing population, shortage of affordable housing and positive shift in attitudes toward medium-density housing presents a great opportunity for town planners, property developers and the overall real estate industry," Colliers director of residential David Chittenden said.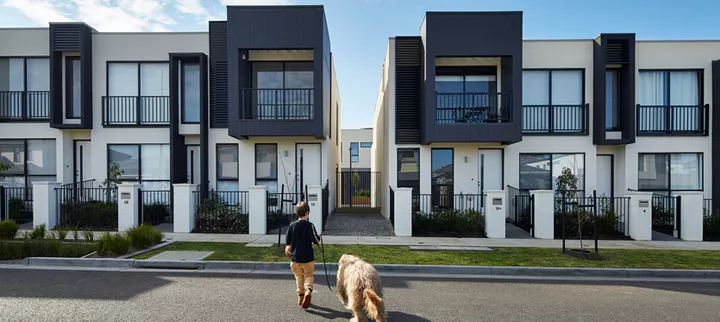 The Low Rise Medium Density Housing Code was announced by the NSW department of planning and environment earlier this year.
Under new rules manor houses (single buildings comprising three or four homes), dual-occupancies and terraces houses will also be eligible for a complying development approval.
Colliers David Chittenden continued by stating the new low rise medium-density housing code would increase the supply of housing across NSW, especially in Sydney.
"[The code] will help improve housing affordability and better meet the needs of our changing population by providing a broader range of housing options to suit different lifestyle needs."
Sydney is projected to need an additional 725,000 homes by 2036 to accommodate its ballooning population, according to the planning department's forecasts.
"The populations of Sydney and Melbourne are both expected to exceed 8.5 million by 2061."
"Our sprawling cities need to transform themselves to become more competitive, sustainable, liveable, resilient and inclusive."
According to Domain, demand for medium-density living in Western Sydney, Liverpool and Parramatta is on the decline with greater growth opportunities to be found in fringe regions.
Inner-west, Sutherland and the eastern suburbs have demonstrated positive growth over the past 12 months and remain hot spots for medium-density approvals.
Source: theurbandeveloper.com
Related Posts