Two boarding houses in Campbelltown have been approved by council last night but councillors have warned they don't want to see the area flooded with the high-density accommodation.
A nine-bedroom boarding house was approved for 1 Bocking Ave, Bradbury while a 15-bedroom boarding house was also approved for 60 Moore St, Campbelltown.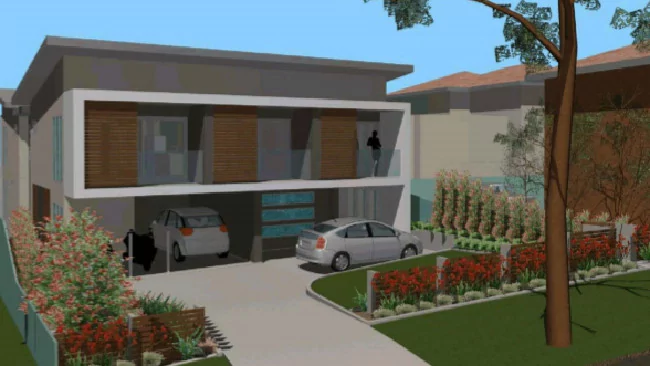 The Bradbury house design.
Despite the applications being approved, council staff will now prepare a report on how to limit the number of boarding houses in the area.
Independent councillor Warren Morrison asked for the report to be prepared and was backed by fellow councillors.
"We do need that choice of affordable accommodation," he said.
"But some of these streets are small and I feel it will affect residents."
Councillors praised the design of the houses as a marked improvement on previous applications but still raised concerns with a number of aspects.
Greens councillor Ben Moroney said if council had refused the development application it would be forced to fork out legal fees in an appeals process it would likely lose.
"Again, this highlights issues with the SEPP (State Environmental Planning Policy)," he said.
Cr Moroney also said he didn't believe the $240-$280 being charged for a room at the developer's other houses equated to an affordable housing solution.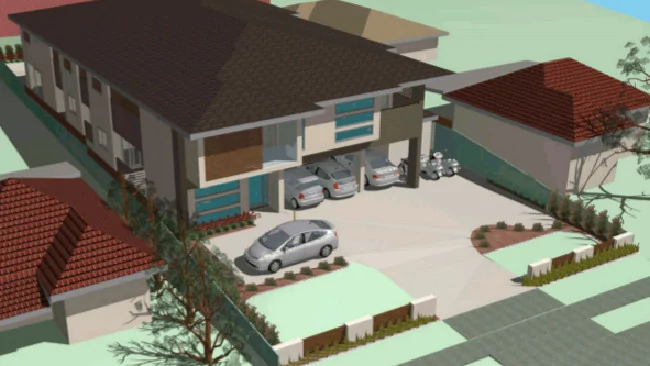 The 60 Moore St design.
Several councillors also expressed concern with the lack of provision for parking spaces.
According to the SEPP, only 0.2 parking spaces need to be provided for each room.
The designer of the boarding houses, Grant Robinson said the boarding houses were built close to services and public transport so that people would not need a car.
"I do understand that in an area like Campbelltown where everyone does have a car and their own space that a change if very difficult to understand," he said.
"If you're looking at moving into a building you then have to look at finances and a car that sits their most of the day might not be a cost you want to keep."
Liberal councillor Ralph George was not happy with the lack of parking provided and believed both houses would place a strain on parking in surrounding streetscapes.
"People are going to own cars, I can see that being a problem," he said.
Cr George said he didn't think Campbelltown Council should be allowing developments that only meet the minimum standards and fail to add to the area's character.
"I would ask, do we want to live in a bare minimum Campbelltown?"
Labor councillor Meg Oates said the Moore St house would affect residents on nearby by Reddall St around the corner.
"Reddall St is full of units and parking is already terrible at the best of times," she said.
"It's unfair on those residents who are already there.
"It's unrealistic to think that people won't own cars."
Source: www.dailytelegraph.com.au
Related Posts