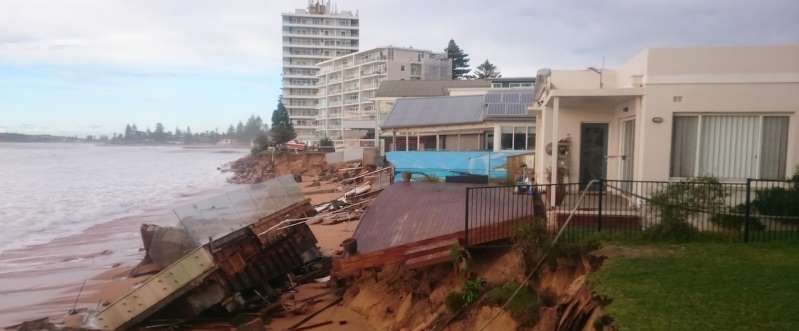 Australian home prices fell for a 13th consecutive month in October, driven by continued falls in Sydney and Melbourne, the largest and most expensive capital city markets.
CoreLogic's Home Value Index slid 0.5% — the same decline reported in September — leaving the decline over the past 12 months at 3.5% in average weighted terms, the steepest drop since early 2012.
By type of property, house price nationally fell by 0.5%, extending the drop over the past year at 3.7%. Unit prices fell by a smaller 0.4% over the month, and by 2.7% over the year.
The average capital city price fell 0.6% from a month earlier, again, the same pace reported in September. Over the past 12 months, the average median price in the capitals slumped 4.6%.
Capital city unit values fell 0.5% from September, outpaced by a larger 0.6% decline in house prices. Over the year, prices fell by 3.2% and 5.1% respectively.
Home prices in regional areas also softened, falling 0.2%, trimming the gain over the past year to 0.8%.
However, while prices nationally continued to decline in average weighted terms, the weakness largely reflected decline in just three cities — Sydney, Melbourne and Perth where prices skidded 0.7%, 0.7% and 0.8% respectively from a month earlier.
As seen in the table below from CoreLogic, prices in all other capitals were flat to higher last month with Hobart once again outperforming with an increase of 0.9%.
In September, prices fell in five of Australia's eight capital cities, suggesting that rather than becoming more widespread, losses may now be narrowing to just a few specific centres.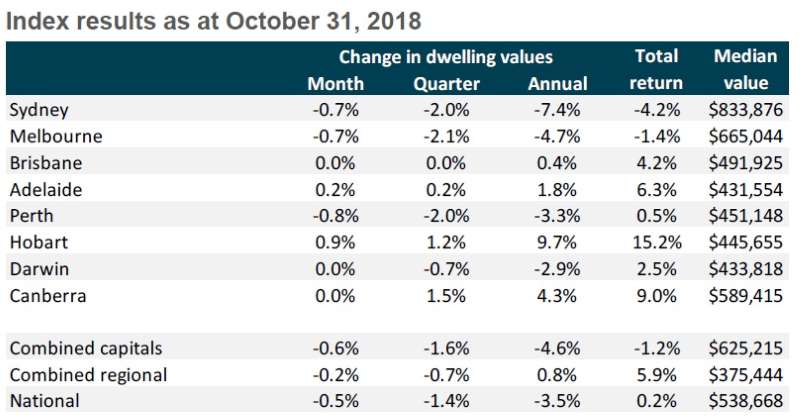 Over the year, price declines ranged from 7.4% in Sydney to 2.9% in Darwin. Median prices in Melbourne fell by 4.7%.
In Sydney and Melbourne, the declines over the past year has seen median home prices in these cities fall by around $70,000 and $45,000 respectively.
In percentage terms, the annual decline in Sydney was the largest since February 1990.
Despite prices falling in less locations than September, Tim Lawless, Head of Research at CoreaLogic, says that from a longer-term perspective, it's clear prior declines in Sydney and Melbourne are now starting to influence price movements across the country.
"On a rolling quarterly basis, dwelling values are now trending lower across both the combined capital city regions as well as the combined regional areas of Australia," Lawless said.
"With such broad-based weakness in housing market conditions, it's clear that tighter credit availability is acting as a drag on housing demand and impacting adversely on the performance of housing values across most areas of the country."
As has been the case for some time, the national price decline largely reflect falls at the top end of the housing market.
"Nationally, the highest value quarter of the market has led the downturn with prices falling 6.6% while lower quartile values have recorded a 0.5% rise," Lawless said.
Being the largest and most expensive housing markets in Australia, that disparity predominantly reflected price movements in Sydney and Melbourne.
"In Melbourne, the top 25% of the market has seen values fall by almost 9% over the past 12 months, a slightly weaker performance than Sydney's upper quartile market where values are down by 8.6%," Lawless said.
"At the same time, more affordable housing markets have seen a 2.9% rise in values across Melbourne over the past year, while Sydney's lower quartile has recorded a fall that is almost half that of the upper quartile."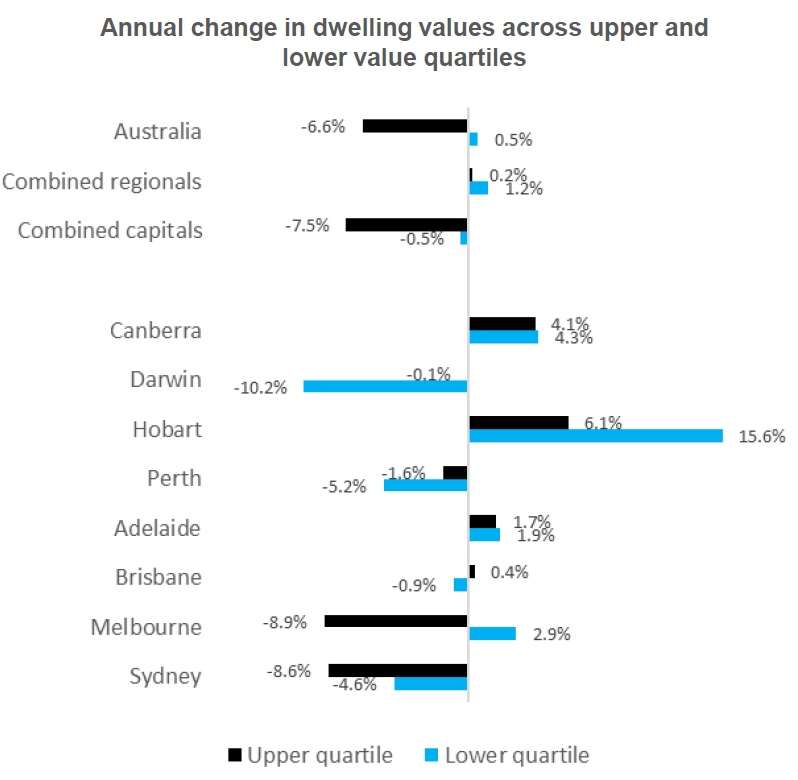 Sydney and Melbourne contain around 40% of Australian homes, and around 60% of national housing wealth. That means price movements in these cities are influential on national averages.
Lawless says recent trends are likely to be repeated in the months ahead.
"With credit availability remaining tight and rising inventory levels, we are expecting there will be further downside pressure on housing values as we move through spring and into summer and the new year," he says.
"Advertised stock levels are tracking 10.5% higher relative to the same time last year with total listings number almost 20% higher across Sydney and Melbourne."
He also expects that lending standards will remain strict, an outcome that will impact more expensive housing markets where prices are significantly higher as a multiple of household income than in other parts of the country.
"It's clear that lenders are also focusing more on loan serviceability and reducing their exposure to borrowers with high debt levels relative to their incomes," Lawless says.
"These measures help to explain the underperformance of more expensive housing markets were borrowers may find it challenging to secure finance."
The impact of tighter restrictions on high debt and loan-to-income borrowers may also explain why auction clearance rates in Sydney and Melbourne continue to languish below 50%, the lowest level seen since earlier in the decade.
However, while headwinds from tighter lending standards will continue to present headwinds for prices in Australia's most expensive markets, Lawless points out that firmer labour market conditions and improving affordability levels will likely help to cushion price falls and keep mortgage arrears low.
For those looking for more granular information on price movements across the country, this table from CoreLogic breaks down the headline movements into smaller categories and time frames.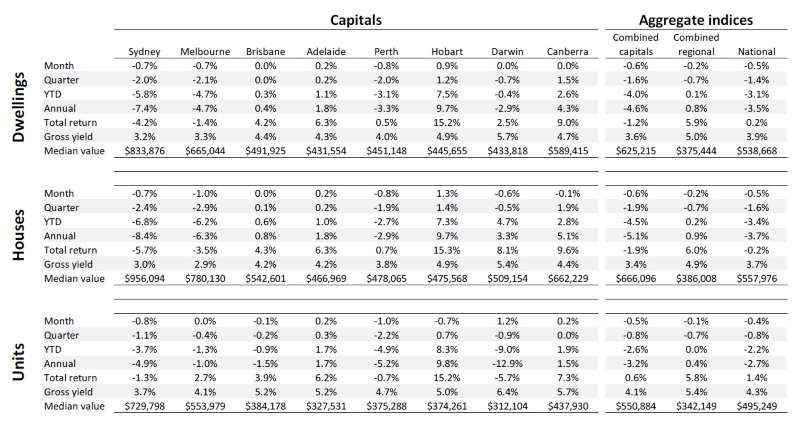 Source: msn.com/en-au/
Related Posts