Canberra's housing boom in the past decade is the biggest on record for the ACT and has created an oversupply of more than 6000 apartments in the city, but if the population continues to grow at current rates, it is likely to soak up the excess supply.
The boom had led to an oversupply of about 6700 dwellings, the vast majority of which were apartments or attached dwellings, Associate Professor Ben Phillips, an economist at the Australian National University, said.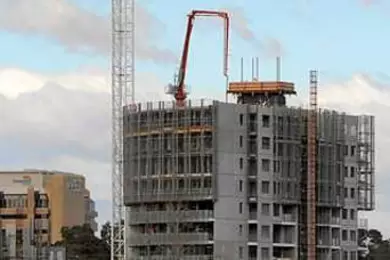 On top of that, there was still a strong pipeline of new dwellings in the works, according to still-rising building approvals data, expected to be built in the next 18 months, despite a fall in the first three months of this year.
While median rents overall were fairly steady over that period, at about $380 a week, unit and house rents have since risen to record highs and the construction boom has not addressed underlying affordability problems facing Canberra's lowest-income earners.
Mr Phillips said building completions in the 10 years to June 2018 had been roughly double that of the decade to 2008, with about 5000 completions a year, only 20 per cent which had been free-standing homes.
Despite the oversupply, Mr Phillips said if ACT population growth continued at the same rate as the past year, it was likely to soak up some of that surplus, and with building approvals still at about 5000 a year, the imbalance should level out in the coming years.
"It's also relatively small compared to the total number of dwellings in Canberra," he said.
"It will take a few years to level out, but at the moment, we do have population growth that is more than supporting what is being built at the moment.
"My general take is that over the past 10 years, we've built considerably more than was necessary with Canberra's population growth, however, the current level is roughly in line with requirements," Dr Phillips said.
Since records began in the mid-1980s, there had not been a 10 year period in Canberra where there had been so much housing built, and as it came during a period of significant federal public service cuts, rising population and economic growth, it was a positive story overall for the ACT, he said.
Mr Phillips said given more people were living in units, and fewer people tend to live in a unit than a detached house, there was a need to build more overall dwellings per capita than before.
He also said that while the city was affordable for those on an average to higher incomes in Canberra, and there was a smaller proportion of residents in poverty than the major capital cities, the ACT remained one of the toughest places for low-income earners.
While house prices are still rising across the city, rents have been relatively stable for more than five years, and for some apartments and units, had fallen a few per cent in recent years, he said.
"But while stable, the rents in Canberra are still relatively high comparatively and not really that much different from Sydney and Melbourne," he said.
"What's probably a greater concern, which feeds into housing affordability, is the strongly increasing rates and utilities costs, particularly in Canberra, where people are more reliant on heating costs than other capitals and many low-income residents are stuck in low-quality homes."
Dr Phillips said that some families would still prefer to rent, or buy, a freestanding home with a decent backyard, the cheaper option remained an inner suburbs unit, particularly for younger singles or couples without children.