MASSIVE $50bn pledge to connect all of Melbourne's rail lines with an underground loop hasn't been inspected by Victoria's independent infrastructure body. The unfunded plan would take decades to build.
A PROPOSED underground train network for Melbourne would carry passengers from the southeast to Melbourne Airport in 45 minutes, government modelling shows.
Premier Daniel Andrews today released "expert modelling" that predicts travel times from Cheltenham to the airport – 45 minutes – would be faster than the current car trip.
Box Hill to the Melbourne Airport would take 25 minutes and Monash Clayton to La Trobe Bundoora 25 minutes, he said.
Mr Andrews announced the radical $50 billion plan for a 90km subway rail system linking Melbourne's booming suburbs yesterday.
He said that a re-elected Labor government would spend $300 million on planning an "orbital" train network linking Cheltenham in the southeast to Werribee in the west.
Today, he would not provide more detail on where 12 new stations would be built, or how the state government, federal government and private partnerships would divide the cost.
"I think the important thing is to not necessarily give away your hand with these things to the federal government or the private sector," Mr Andrews said.
"It's really important not to give away exactly where the new station will be because I don't want property developers basically speculating, going around buying up land.
"I also want to maximise the number of partners in this and if we are so specific about that detail then some may think that they don't necessarily have to contribute."
Yesterday's announcement blindsided experts at Infrastructure Victoria — the state's planning advisory body established by Mr Andrews three years ago.
The Premier said construction would begin within four years, but the entirety of the new rail "ring" would take decades to finish.
New stations or underground interchanges would be constructed at Cheltenham, Clayton, Monash, Glen Waverley, Burwood, Box Hill, Doncaster, Heidelberg, Bundoora, Reservoir, Fawkner and Broadmeadows.
The plan would also effectively create a twin rail entrance to Melbourne Airport: one built towards Broadmeadows, and the other built to Sunshine and then Werribee.
The $8-13 billion Sunshine route, already being planned by the state and federal governments, would be built first.
"It is exactly what the fastest-growing city, and soon to be Australia's biggest city, needs," Mr Andrews said.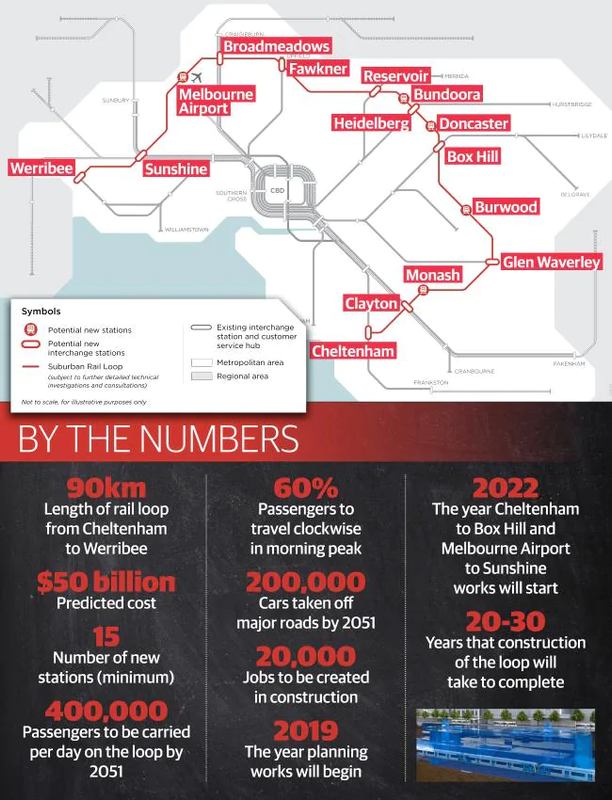 When asked how the project would be paid for, Mr Andrews said that federal and private sector contributions would be sought. But he conceded his plan would cost "many billions of dollars and it will take years to complete".
He said "borrowing to build" had been successful, but it was important to keep the state's net debt at below 6 per cent of gross state product.
Some property acquisitions might be required.
Shadow treasurer Michael O'Brien said the state Opposition would consider the plan once it had been assessed by Infrastructure Victoria.
Federal Urban Infrastructure Minister Alan Tudge said Infrastructure Australia should also assess the plan.
"A big vision is great, but where are the details and the dollars?" Mr Tudge said.
Infrastructure Victoria had not been consulted on Labor's idea, which was devised over the past year. But its chief executive, Michel Masson, said there would now be "independent, transparent thinking and assessment".
"This proposal is new and was not considered in the 30-year strategy released in 2016, so we will be interested to assess it in more detail in light of the long-term needs of the state," Mr Masson said.
Public Transport Minister Jacinta Allan said the orbital rail line would "ease pressure on our existing train network and it will ease pressure on our road network".
Several industry groups and construction unions strongly backed the concept.
The Property Council said it would "unlock employment and education precincts".
Source: news.com.au
Related Posts