Melbourne's apartment market has not been immune to commentary about oversupply, however a new report suggests that current supply is balancing out demand in the inner-city apartment market with median prices growing steadily in the past six months.
The report from researchers Secret Agent shows the median price of apartments in the March to May 2018 quarter increased by 3.26 per cent since the October to December 2017 quarter.
The median price of an inner city apartment in the previous quarter was $570,000, up from $552,000 at the end of 2017, explains Secret Agent researcher Jodie Walker.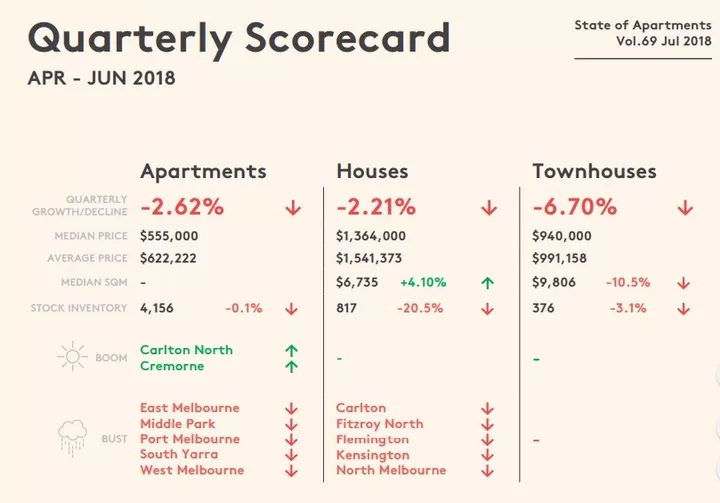 Supplied
In a similar vein to the rest of the country, investor demand in Melbourne's apartment market has dropped due to tighter lending requirements, but Walker says this has enabled a greater number of first home buyers to enter the market.
"This could be a reflection of the larger number of first home buyers in this section of the market and changes in stamp duty concessions for purchases between $600k and $750k which came into effect in July 2017," Walker said.
ABS figures showed that 47 per cent of Australia's apartments were located in NSW and 23 per cent were in VIC, with Melbourne home to more than 94 per cent of the occupied apartments in the state.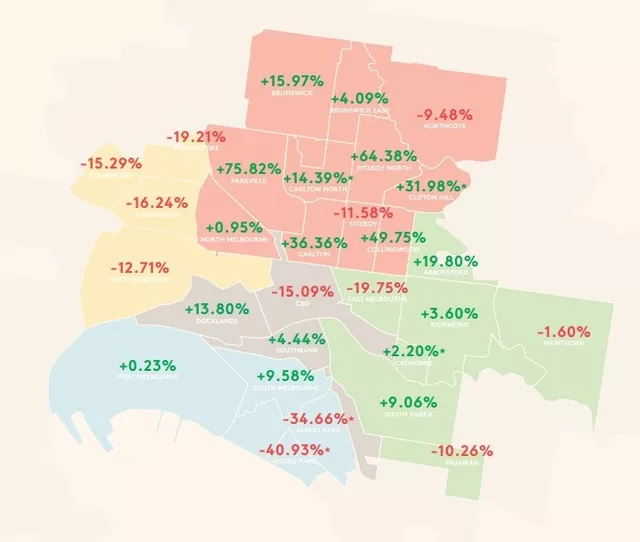 Apartments: Quarterly median change by suburb based on data collected from January to June 2018.Supplied
Victoria's top three regions with the most people counted in apartment dwellings were Melbourne, St Kilda and Southbank, according to the Urban Development Institute of Australia, with 47 per cent of all new multi-unit supply located within a five-kilometre radius of Melbourne's CBD.
Thanks to the introduction of the Better Apartment Design Standards, Walker believes the quality of apartment stock coming on-line in Melbourne is likely to improve.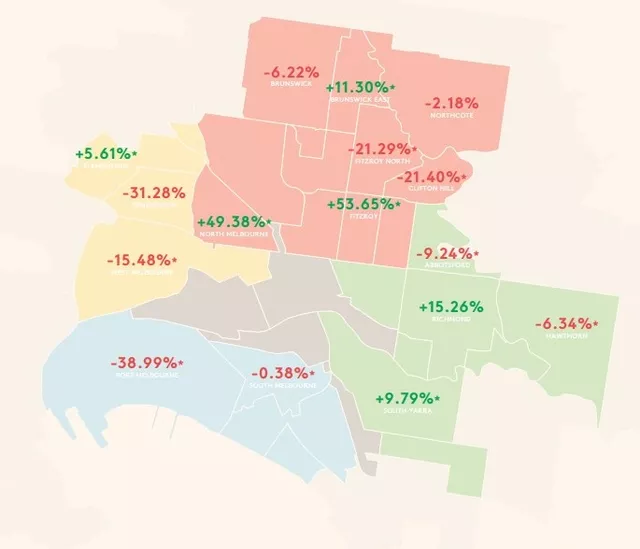 Townhouses: Quartery median change by suburb based on data collected from January to June 2018Supplied
"However, the small, poor quality apartments that were built over the last decade are likely to see falling prices as they are shunned by both investors and owner occupiers," Walker said.
"Apartment living in Australia as a whole is growing. This is especially the case in our highly populated cities such as Melbourne.
"Although not for everyone, many people will need to accept this form of living as it is the only way to keep up with demand."
Source: theurbandeveloper.com