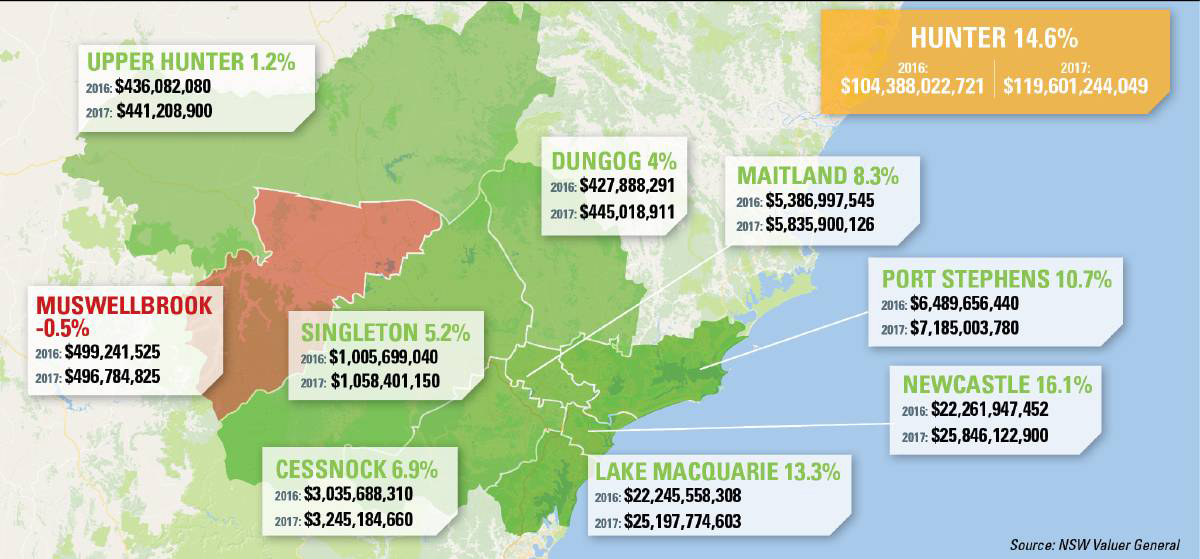 Great News for Hunter Region investors
THE Hunter's frenzied real estate market drove land values up almost 15 per cent, or more than $15 billion, last financial year to a new regional high-water mark.
Figures issued by the NSW Valuer General estimated the value of all residential land in the Hunter hit $119 billion last financial year, up from $104 billion the year before.
The Hunter's residential property market experienced strong price hikes driven by the region's construction boom, proximity to Sydney, lack of supply and low interest rates.
The state government's infrastructure spending helped drive skyrocketing growth in Newcastle's inner-city development hot spot.
Preston Rowe Paterson Newcastle and Central Coast director Colin Pugsley said Newcastle CBD suburbs experienced the strongest growth led by Cooks Hill and The Junction, along with newly trendy suburbs Wickham, Carrington and Maryville.
Corlette Street in Cooks Hill saw one of the region's biggest jumps, with the value of a 278sqm block of land jumping 18 per cent from $580,000 to $685,000.
Mr Pugsley said price increases were "more pronounced" for residential properties in inner-city areas that allowed high-density living, with similar demand for land "capable of redevelopment".
The value of a 2750sqm residential block of land in Darby St, Cooks Hill, jumped almost 30 per cent from $1.54 million to $2 million.
But it's not just the inner city suburbs that are soaring. Further out, suburbs like Mayfield, Lambton, New Lambton, Adamstown, Hamilton and Stockton recorded strong increases between 15 and 20 per cent.
A block of land in Bailey Street, Adamstown, jumped almost 20 per cent to $446,000.
Real Estate Institute Newcastle Hunter divisional chairman Wayne Stewart said while residential sales were not as "hot" as they were a year ago, the market was still "very strong".
While the valuer general's report is not based on the value of homes or improvements to land, property sales are the biggest factor.
Annual land values are also one of the major factors councils use to calculate rates.
According to the NSW Valuer General, a block of land in The Quarter Deck, Merewether Heights, increased from $138,000 in 1996 to $715,000 last financial year, a jump of more than 500 per cent.
Over the same 21 years, a block of land in Ackeron St, Mayfield, jumped from $45,700 to $340,000, an increase of more than 700 per cent.
Residential land values in Lake Macquarie also grew at more than 13 per cent last financial year to a total value of $25 billion.
Coastal suburbs experienced the biggest land value growth and there was high demand for affordable areas to the west and north-west of the lake including Morisset, Cooranbong, Boolaroo, Glendale and Edgeworth.
A residential block in Minchinbury Close, Eleebana, increased almost 500 per cent from $74,000 in 1996 to $369,000 last financial year.
In Port Stephens values rose by 10.7 per cent last financial year to $7.1 billion and in Maitland they rose 8.3 per cent to $5.8 billion.
Land in Shoal Bay, Tanilba Bay, and the waterfront areas of Soldiers Point, Salamander Bay and Corlette registered the fastest growing prices.
Mr Stewart said growth rates across the Hunter over the past three years had been driven by historically low interest rates.
He said there had been a "drop off" in the high end of the market this year and there were not as many investors looking to buy.
"There is one big factor that can change things immediately and that is obviously interest rates," he said.
"If there was an increase there, the handbrake would come onto the market very quickly.
"That's the only thing that I can see that is going to affect the marketplace because supply is keeping prices high."
In Cessnock values rose by 6.9 per cent to $3.2 billion and in Singleton they rose 5.2 per cent to $1.05 billion.
Mr Stewart said days-on-market for sales was starting to increase in the Lower Hunter, but interest was still strong from "mum-and-dad buyers" in Newcastle and Lake Macquarie.
He said a fixer-upper in Islington recently sold for 25 per cent more than expected, or an extra $100,000.
The downturn in the coal industry continues to bite the upper regions of the valley, but prices have stabilised compared to previous years' drops. Land values in Muswellbrook dropped just -0.5 per cent to $496 million and the Upper Hunter increased 1.2 per cent to $441 million.
Source: theherald.com.au