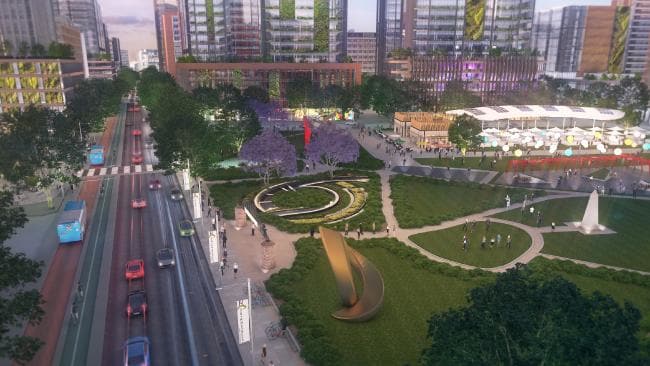 CAMPBELLTOWN is set to more than double in size over the next 30 years with a radical new plan to be unveiled today providing a blueprint for how its residents will live and work in the city in the years to come.
An extra 500,000 residents are expected to move into the area within three decades, bringing its population to 800,000. Mayor George Brticevic said growth would be ­supercharged by the new Western Sydney Airport.
A forum at NSW State Parliament today will hear how two-thirds of the residents of the Macarthur region in Sydney's southwest now leave the local area to travel to work.
But a Deloitte report called Re-­Imagining Campbelltown says beefed-up health and education infrastructure will provide more local jobs.
Education Minister Rob Stokes will today announce a "precinct" to forge closer links between the city's existing hospital and TAFE and Western Sydney University campuses, to "establish itself as one of Australia's leading innovation districts". The report recommends Campbelltown become a "knowledge city" and promises "it will be known for its lifestyle".
"If Campbelltown and the Macarthur region are to thrive they must pivot from a suburban model of growth towards an urban model of development," it recommends.
It says it should build a "central park to rival Hyde Park or Parramatta Park" in a bid to become the nation's greenest city.
It also controversially proposes car parking be "decoupled" from new developments to "encourage less basements".
And new streets should be created where development lots can be broken down to "provide greater connectivity and walkability".
Mayor George Brticevic said growth for the city will be super charged by the new Western Sydney Airport at Badgerys Creek in 2026.
"With our massive spike in population infrastructure project — the Western Sydney Airport — a stone's throw away, there is a great opportunity to reshape our city and capitalise on the public, and private sector interest that is happening across the region," he said., in addition to Australia's biggest
"To do that we need to build a place that appeals to young Millennials and to big corporates which are looking to leverage the opportunities, and growing talent-pool that exists in Campbelltown and beyond."
Source: dailytelegraph.com.au
Related Posts