Increasing real interest rates and Victoria's stage-four lockdown will force the Reserve Bank to re-examine policy settings and its forecasts for the national economy amid growing evidence the jobs market has deteriorated in the past fortnight.
The RBA board is expected to hold official interest rates at their record low of 0.25 per cent at its Tuesday meeting – the first since Victoria was forced to shut key parts of its economy and tight restrictions were imposed on its border with NSW.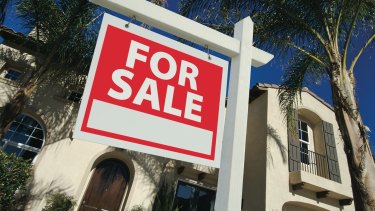 House values in Melbourne and Sydney tumbled in July, with warnings this could accelerate with the winding down of government support later this year.
But the unfolding economic disaster in Victoria could force the bank to consider a proposal floated by governor Philip Lowe late last month, when he said there was scope to move rates to just 0.1 per cent.
Since the RBA's last meeting, inflation has suffered its biggest quarterly drop since September 1931, during the Great Depression. The 1.9 per cent fall in consumer prices in the March quarter increased the nation's real level of interest rates – the rate investors, savers or lenders receive after allowing for inflation.
Data from ANZ Banking Group on Monday suggests the outbreak in Victoria is already weighing on what was the weakest jobs market since the 1990-91 recession. Job ads rose by 17 per cent in July but the bank reported there was a slowdown through the final fortnight of the month.
Despite the increase, total job ads were 55,000, or more than a third, down on the same time last year.
ANZ senior economist Catherine Birch said there were also indicators suggesting the jobs market was troubled.
"Payroll jobs turned down in early July and some industries that were less affected earlier in the pandemic, such as construction and professional services, may now be suffering lagged impacts," she said.
https://www.smh.com.au/national/coronavirus-updates-live-victorian-businesses-subject-to-tough-covid-19-restrictions-amid-stage-four-lockdown-australian-death-toll-stands-at-221-20200803-p55i5c.html
The Melbourne and Sydney property markets have also deteriorated on the back of the pandemic.
CoreLogic on Monday reported Sydney house values dropped by 1 per cent last month to be down 2.4 per cent over the quarter. Despite the drop, Sydney values are still up by 13.2 per cent over the past year.
Melbourne house values dropped by 1.4 per cent in July to be down by 3.8 per cent over the past quarter. Melbourne's housing market has taken the biggest hit of any capital city in the country over the past three months.
Despite the fall, Melbourne house values are still 8.9 per cent higher than a year ago.
Elsewhere, house values fell by 0.3 per cent in Brisbane, 0.6 per cent in Perth, 0.4 per cent in Hobart and 0.2 per cent in Darwin.
CoreLogic's head of research, Tim Lawless, said federal and state government support programs, particularly those aimed at first-time buyers, had helped hold up much of the market.
But with much support starting to fall from October and mortgage repayment holidays likely to expire by March, the deteriorating market could force more properties to sale.
"Urgent sales are likely to become more common as we approach these milestones, which will test the market's resilience," he said.
"Similarly, the recent concerns of a second wave of the virus and the potential for renewed border closures and stricter social-distancing polices are likely to further push consumer sentiment down. This is likely to weigh on both home buying and selling activity more broadly."
CommSec senior economist Ryan Felsman said the shutdown of Victoria, the closure of state borders and the reintroduction of measures aimed at stopping the spread of COVID-19 had all increased pressure on policy makers to lift their response to the pandemic. The RBA was also facing pressures due to the inflation result.
"While the virus response is largely focused on an easing of fiscal policy, monetary conditions continue to tighten, with real interest rates lifting and the Aussie dollar remaining stubbornly anchored around US71¢," he said.
The RBA releases its quarterly monetary policy statement on Friday, with its key forecasts to take into account the Victorian shutdown.
Source : smh.com.au/politics/federal/increasing-real-interest-rates-victorian-lockdown-make-rba-decision-tougher-20200803-p55i3c.html